It is always so rewarding to work with a client for the second time. We had the pleasure of planning Alina's baby shower after planning her wedding to her husband Loris in September 2020. Needless to say, we were over the moon when we learned that she was expecting her first child. And, we were even happier when she asked us to help plan her baby shower!
Sustainable Decor and Favors for a Baby Shower
It is important to us to design events that are not only beautiful but sustainable! We never tire of finding ways to make our parties more earth-friendly, and Alina's shower was no exception. To create decor that would be as sustainable as possible, we were mindful of avoiding waste. For example, we used wooden block toys as table centerpieces. Alina carefully chose each one, so all will have a place in her future nursery. We also provided plain onesies from the H&M Organic Collection to be decorated with cute phrases and designs! To inhibit waste, we purchased the onesies in a range of sizes so that Alina's little one will grow into them in time. After all, you can never have too many clothes at the beginning!
In addition, the florals were seasonal European varieties that each guest received as they left the event. They were a great favor for guests to take home so that they could be enjoyed as a reminder of the special day! The balloons we selected were all 100% latex and biodegradable, and they were also gifted to a guest whose child's birthday was taking place in the same week. Sugar cookies from a local bakery were an additional favor. When seeking to minimize waste, tasty edible favors are the way to go!
More Sustainability Tips for Events
If you would like your baby shower to be as sustainable as possible, there are a few more tips to remember. Instead of sending out paper invitations, try sending e-cards! Or, if you would still prefer to use paper, make sure that the variety you choose is recyclable—and encourage your guests to recycle their invitation after the event! When it comes time to eat, provide real dishes for your guests instead of plastic or paper ones. And, don't forget to place a recycling bin in the general area where guests can dispose of their trash and gift wrap. Finally, another idea for a sustainable party favor is flower seeds! You can encourage your guests to plant them in their home garden and watch them bloom.
We were so honored to plan Alina's baby shower! We also loved working alongside a vendor team composed completely of other women, including the restaurant owner, balloon company owner, cookie maker, and florist! Whether it's showers like Alina's, a wedding, a birthday party, an anniversary party, or a christening, we are experts when it comes to planning. Let us help plan your next event and lift all of the stress off your shoulders! To get in touch with us, leave us a quick message here. And, for more information on the wedding side of our business, head to our wedding planning website!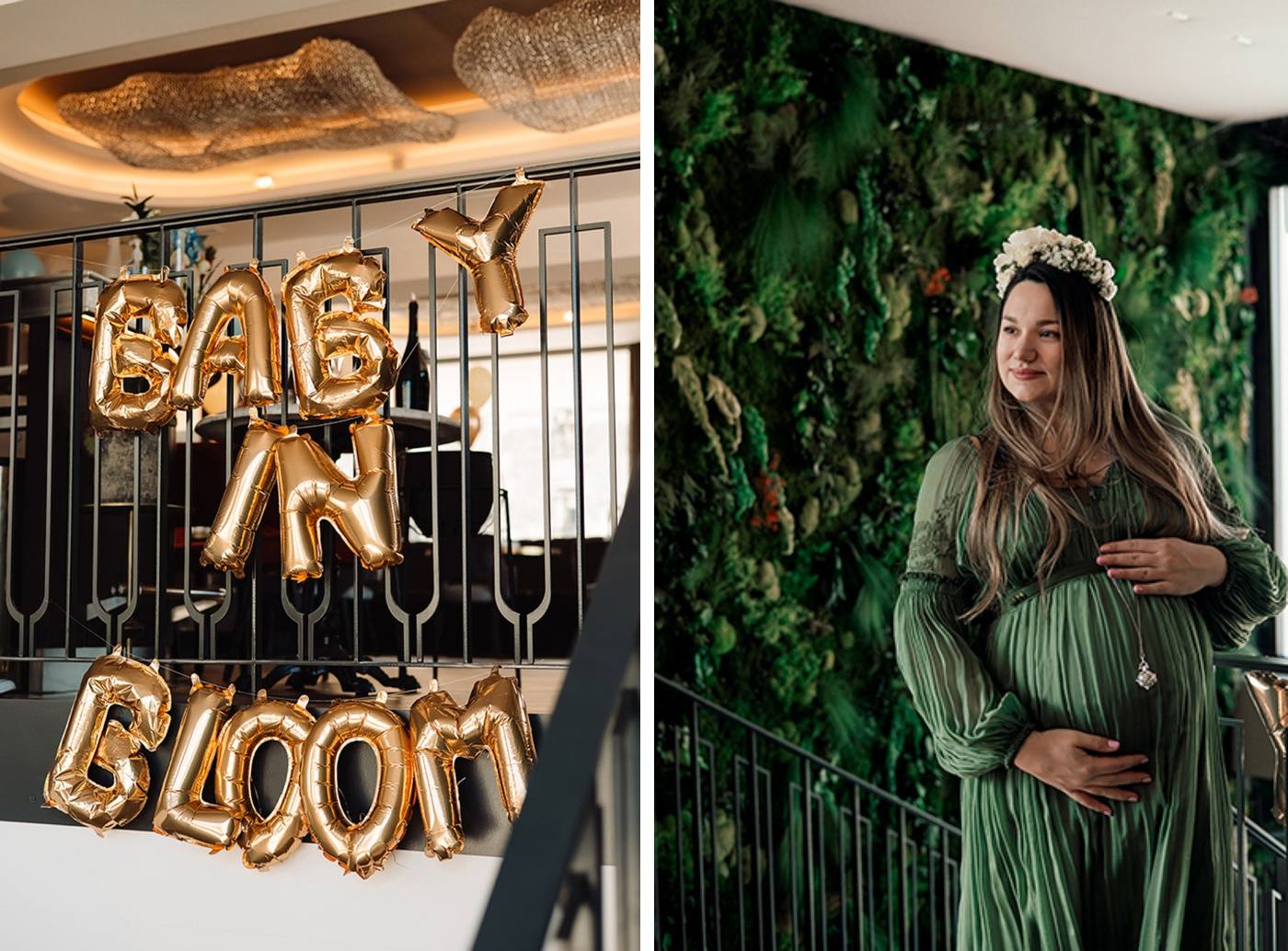 Vendors:
Photography: Sofya K. Photography
Flower Crown: Lilas & Rose Floral Design
Planning & Design, Florals: Events by Loukia
Balloons: Faraday Event Decor & Balloons