Recently, one of our recurring clients called us on a Wednesday night at 7 P.M. to hire us for a birthday party. The only catch was that the party would be taking place the next day at 5 P.M.! To say that it was a challenge to plan a birthday party in less than 24 hours would be an understatement. But, thanks to our amazing team of vendors, we made it happen!
In all honesty, we do prefer having more advance notice before planning an event. This is mainly for your benefit as our client! It is difficult for us to gather everything we need to make your event as flawless and beautiful as possible without at least a few days' notice. With that being said, we took a number of steps to ensure that this client's birthday party would be up to our usual standards. Read on to find out what they were and how you can take advantage of our help and expertise to plan your next event!
Planning a Last-Minute Birthday Party
First and foremost, we were able to take on our client's last-minute request because it was a weekday. On a weekend, planning an event in such a short time span simply isn't possible. Shops tend to close on the early side, and on Sunday they aren't open at all. Other businesses are closed entirely on weekends. Or, they are already booked with events such as weddings. It also helped that the event took place during the pandemic, so vendors were not as booked as they usually are.
With that being said, the first step in our plan of action was to call Olga from Lilas & Rose. She is one of our standby vendors for florals, and she did not disappoint! The next morning, she rose early to get flowers in the color palette we needed, since there wasn't time to make any special orders. Unsurprisingly, the floral arrangements she put together ended up being one of the highlights of the event!
Next, we called Spark Events to book a DJ and a live sax player. We also wrote a lengthy email to the rental company we work with, Options, and wrote every team member that worked with us in 2019 and 2020. In the end, we put together a fantastic team of five to accomplish the event set-up and work the bar! Our bartender, who arrived at the party directly from another job, deserves a special shoutout. Upon arriving, he immediately began serving champagne to the guests. We are so grateful for the friends who came to our rescue to make this event work!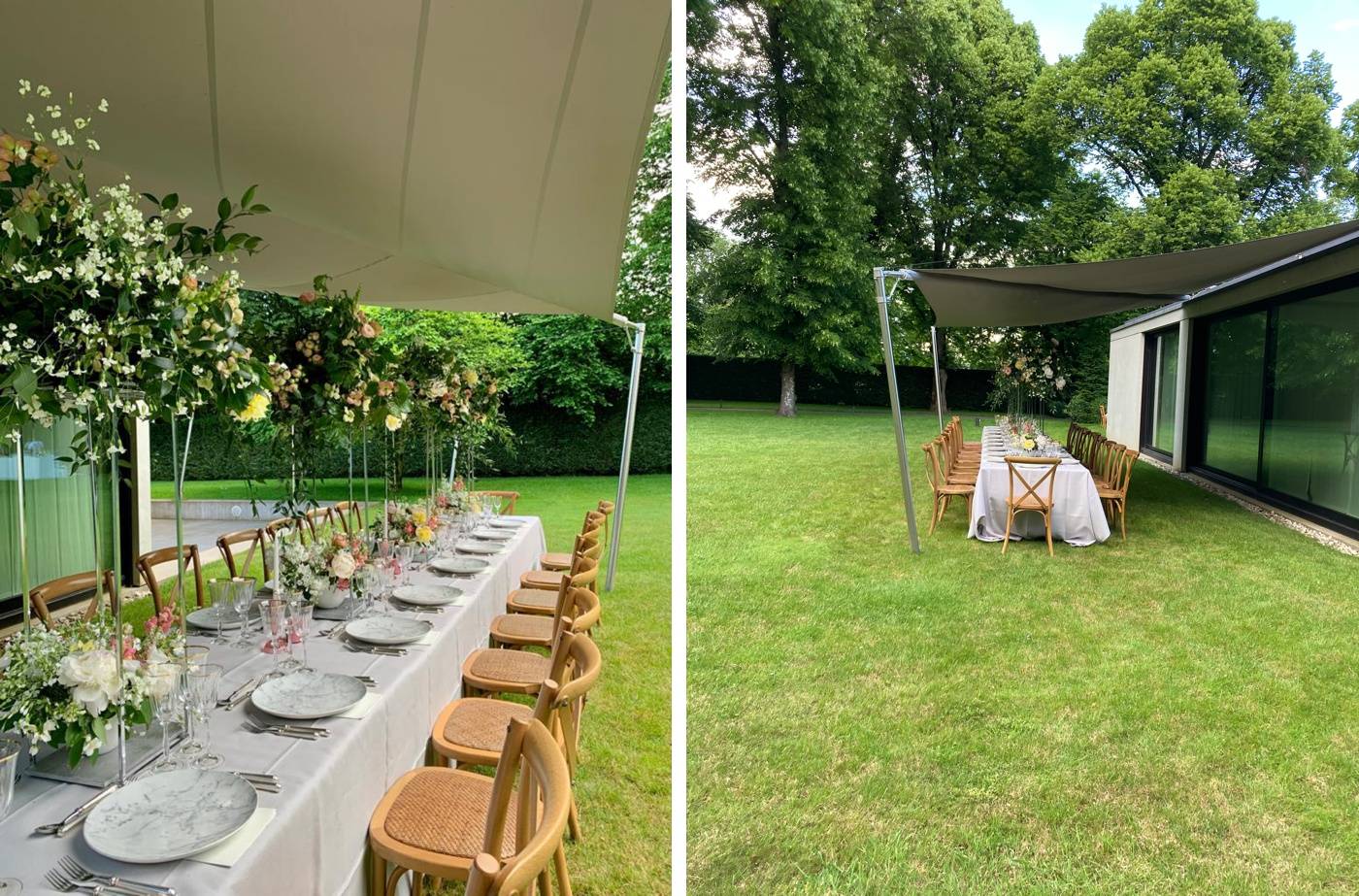 Day-Of Preparation
After sleeping for 3-4 hours, we got to work on the day of the party! We rented a truck to haul all of the decor and rentals to the event location, including a bar, table, chairs, and glassware. We also ordered IZUMI takeaway at the request of our client. Although the food was not prepared on-site, our team was still at work during the event. In the absence of waitstaff, we heated it, prepared plates, and served guests. We pride ourselves on our all-around service and we will get the job done!
The morning was spent on the phone with our amazing vendors and team members, finalizing details and the delivery schedule. Then, we drove a 120 km round-trip to pick up 100 giant balloons. Back in Geneva, we swung by our storage space for helium, candles, and bar equipment. Somehow, we managed to make it to the event location by 3 P.M. to begin set-up. In the end, everything was completed by 5 P.M. sharp!
In the rush, we forgot to pick up some beautiful floral napkins from our storage space, and we forgot ice! Thankfully, Loukia's grandfather lives near the private estate of our client and was able to swing by with white napkins from home and ice from the gas station. Family to the rescue! In addition, the set-up happened so fast that we only managed to get two photos and one quick video of the decor. But, we are still so proud of how this birthday party turned out!
The Value of a Planner
Looking at photos, it may seem like it's easy to pull off an event in 24 hours. But trust us—it's not! Even with a decade of experience in the event planning business, it took us a week to recover from the stress of planning an event so quickly!
At the end of the day, planning a last-minute event is something only professionals with years of experience can accomplish. We know how to work quickly under pressure. Most importantly, we have a network of vendors just a phone call away who will help us at the drop of a hat if needed!
To contact us about your upcoming event, fill out our quick form here. Or, if you would like us to plan your wedding, visit Weddings by Loukia and reach out to us there. We can't wait to hear from you!